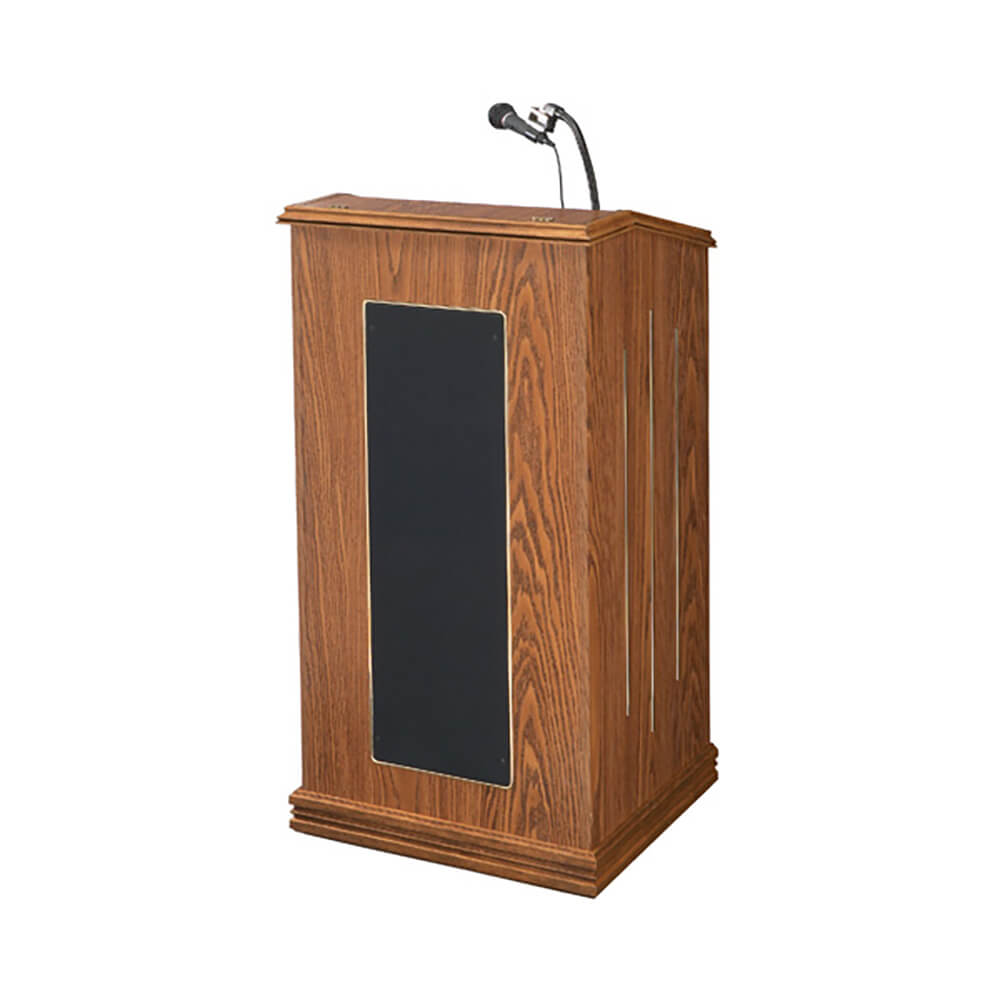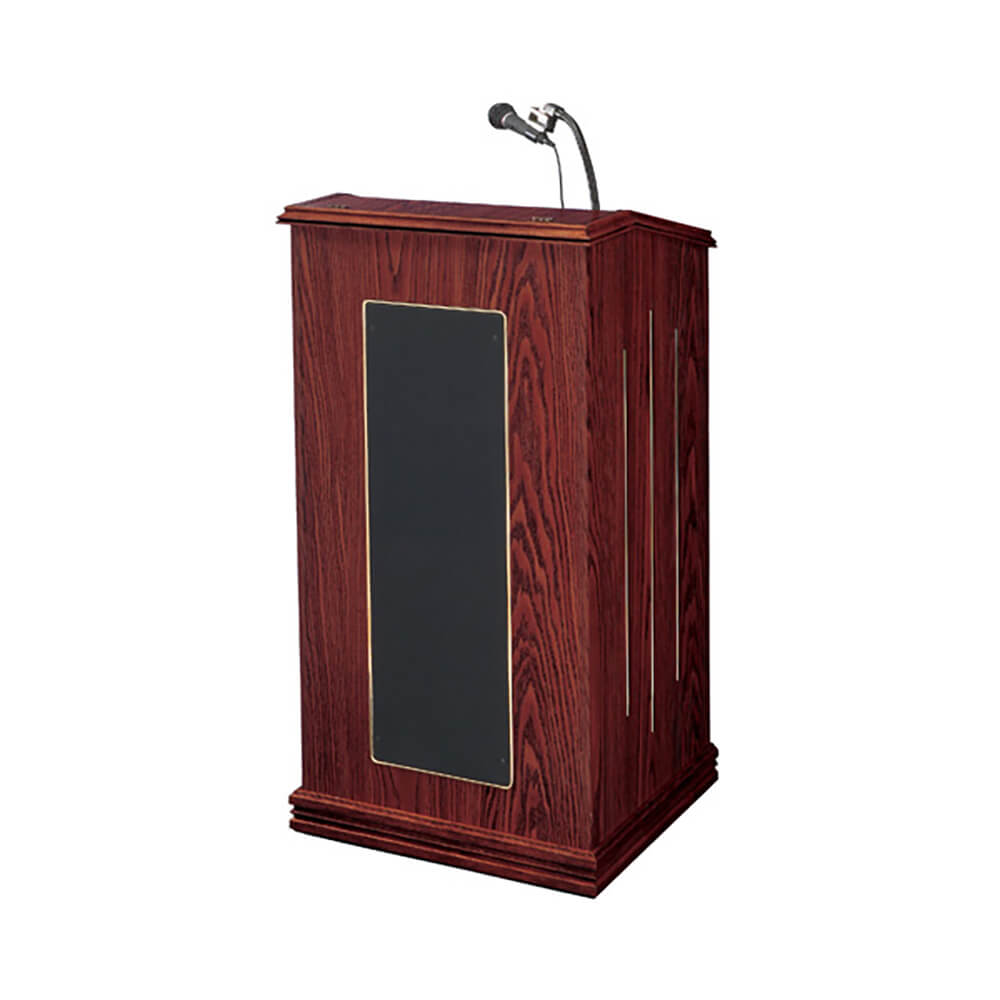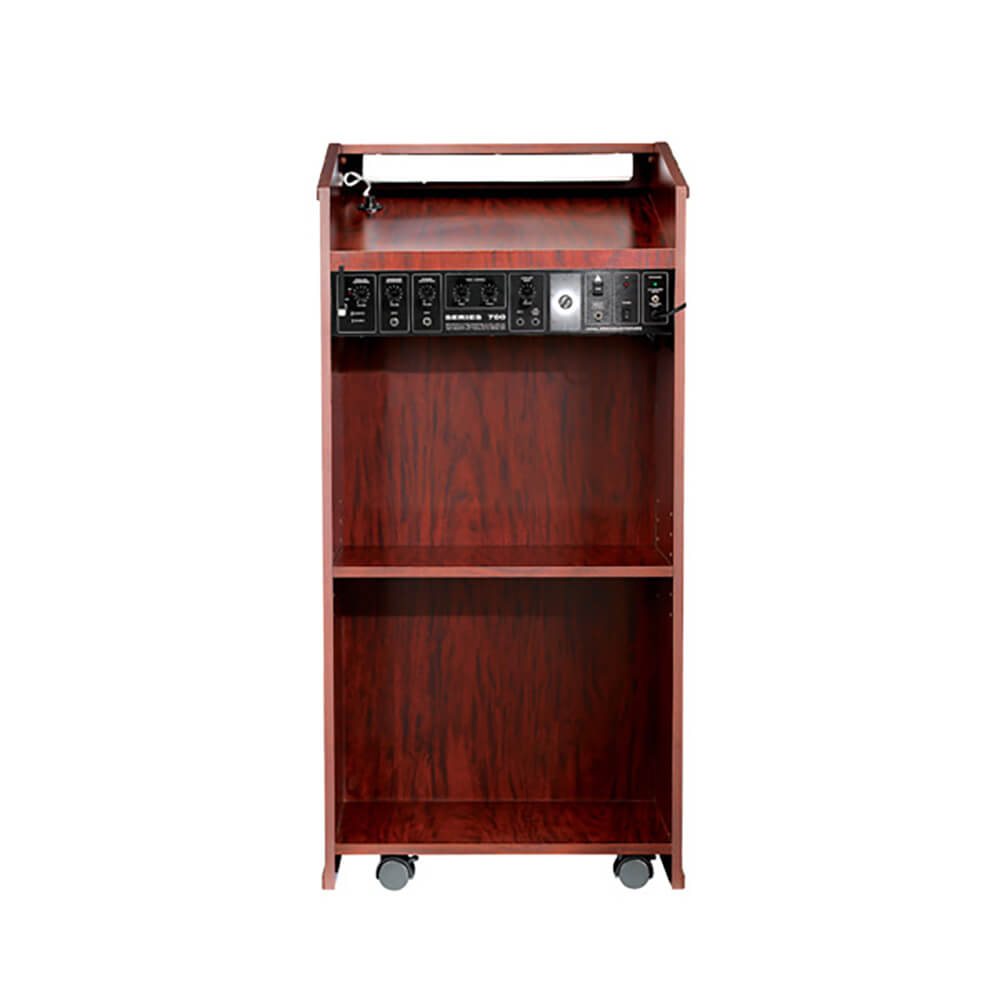 Description
711 (Mobile) The Prestige Lectern with Handheld Wireless Microphone
A beautifully handcrafted podium that commands a dignified presence. Wide reading surface illuminated by a recessed fluorescent lamp; also features surface mounted digital time piece. Unit moves easily on four concealed casters; 2 locking. Now available with built in optional wireless microphones and Rechargeable Battery.
Technical Specifications
• Dimensions: 47"H x 22"W x 18"D
• Weight: 110 lbs.
• Shelf: 20.5"W x 11"D
• Power Output: 50 Watts
• Wired Microphones: 2 Condenser type: Handheld w/9' Cable; Tie-Clip/Lavalier w/10' Cable
• Wireless Microphone: Handheld, Tie-Clip/Lavalier, or Headset
• Speakers: Four 8" High Efficiency
• Inputs: Two Mics, One Aux
• Wireless: Switchable; Two Frequency
• Outputs: Line out 1 - Extension Speaker Line out 2 - Tape Recorder
• Controls: Four Volume, Bass/Treble, On/Off
• Fuse: Internally Mounted, 2A
• Power Supply: 117 Volt AC; 12 V DC w/Opt. Battery
• Recharger: Internally mounted; with LED indicator
Tax Exemption
For tax exempt purchasing please open an account on our website and contact us for activation.
All purchases made with this account will be tax exempt.
Contract Purchasing
Contract purchasing is available with Pro Academy Furniture in the states of:
• New Jersey
• New York
• Pennsylvania
• Massachusetts
Click here for the details of contract purchasing with Pro Academy Furniture